Configure Product Attributes
Product Attributes defines what typ of information can be stored in Assetflw as well as what should be shown in the product listings. To be able to edit or add product attributes you should
Select "Settings" from the main menu
Select "Advanced" from the dropdown menu
In the menu you will find "Product Attributes" on the left hand side. Clicking on this will show all available attributes and their behaviour.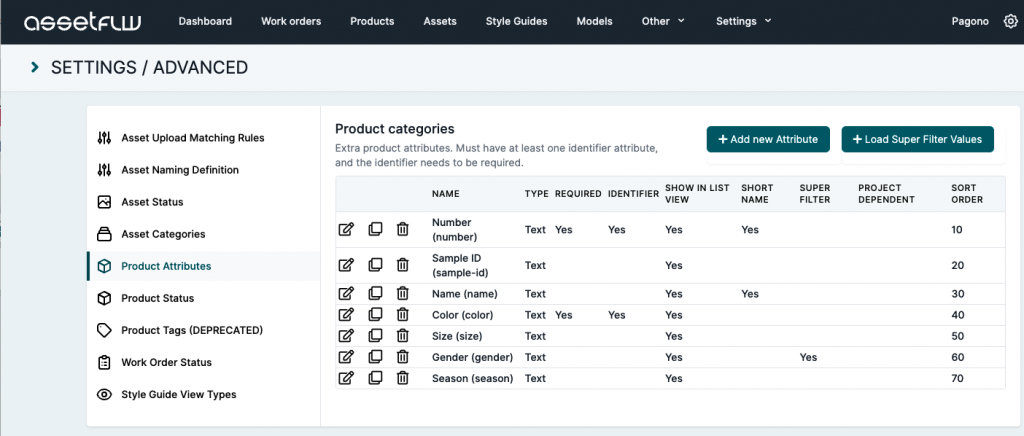 Each attribute can be Edited, Copied or Deleted.
Note that deleting an attribute will delete all data that is related to this attribute.
Adding a new attribute will open a panel on the right hand side where you will fill in som information. There are four different types of attributes:
Text – Is normal text
Tags – Are predefined values that can be added as a list

Here you may chose to have color tags or plain tags

Image URL – Are options to add links to display externa images in the product list
Hex Code Square – Is an option to add hex codes to show color squares, e.g. #0000 will show a black square in the listing
Each attribute must have a name. The name will also create a "slug" within brackets, this is used to create "Asset upload identifier" and "Asset naming definition".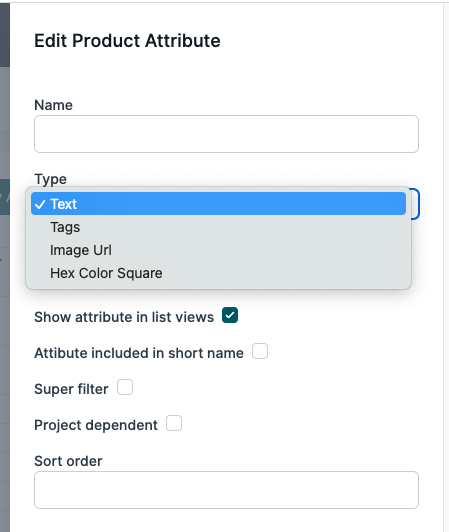 Editing a Product Attribute
When adding ocr editing an attribute there are a nr of options to consider. Apart from selecting a name and a type you must consider the following options: