Streamline your production workflow with Profoto Assetflow
Profoto Assetflow is our powerful workflow management tool designed for e-commerce studios. Built to enable streamlined collaboration throughout the entire creative process, Assetflow supports you in creating better content with fewer resources, resulting in a faster time-to-market, higher sales, and fewer returns. 
Be fully in control of your content
Assetflow integrates seamlessly with our automated systems to keep your production flowing with ease – from planning and managing to execution and delivery. We support you in creating consistent e-commerce content that's crucial to fostering your brand image and scaling online sales. 
A product-centric workflow
Boost productivity and minimize manual work. Automatically build a digital twin of your product, standardize your looks using digital style guides, and streamline your content creation with a product-centric approach. Assetflow enables an efficient workflow, so your team can focus on being creative. 
Real-time progress updates
Create transparency by syncing everyone on shoot progress. Manage and track products, samples, and assets from anywhere to support informed decision-making in real time. Deliver projects on time and within budget, resulting in faster time to market, higher sales conversion, and lower returns.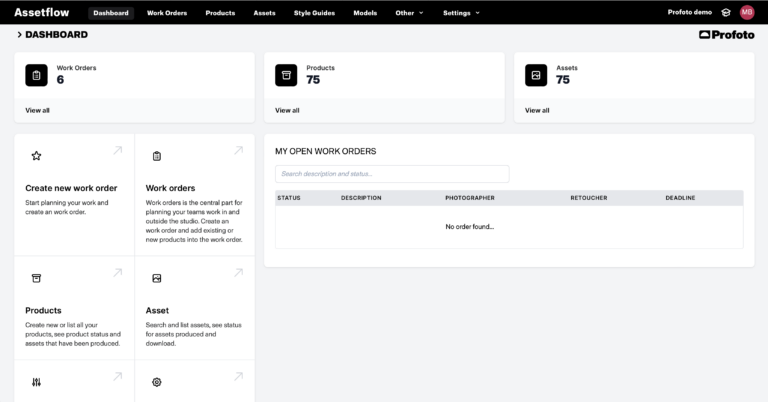 Profoto Assetflow is a web-based tool that's easy to implement with minimal configuration. Its dynamic tables, style guides, and status handling make it suitable for most traditional operations. Plus, with the ability to define your own organization and different locations, it's an excellent fit for both large and small businesses.
Seamless integration with our automated systems
Profoto Assetflow seamlessly integrates with our automated systems but can also be used stand-alone together with our modular solutions or your studio set-up of choice. No matter what your baseline is, Assetflow supports you in reaching the next level of your content creation by streamlining your workflow and managing your assets efficiently.
Read more about Profoto automated studio solutions here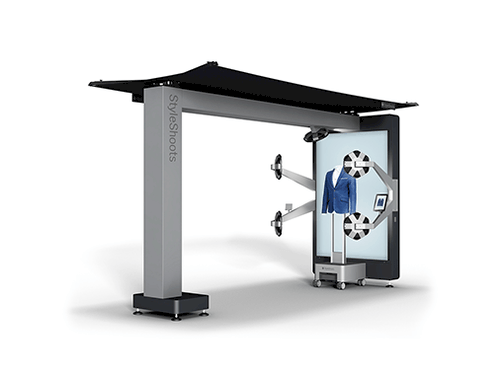 Compatible with your infrastructure
We built Profoto Assetflow to work with most ERP, PLM, PIM, and DAM systems used for e-commerce setups. Designed to seamlessly integrate with existing IT systems and processes in your company, Assetflow allows you to easily create workflows that operate across different systems. 
A tailor-made session with one of our experts
Experience Profoto Assetflow and our other e-commerce studio solutions firsthand and discover content creation the Profoto way. Our consultations give you a first glimpse of how Profoto e-commerce studio solutions enable you to efficiently produce high-quality visual content for your channels.